It's not so simple as "raw mik is legal, anyone can sell it." By law, only producers with 10 or fewer dairy animals in milk can sell, and producers are required to have two tests done on the milk of each individual animal, every month. This testing can be cost prohibitive for many. Several labs we've looked at are over $50 per animal per month for the tests alone, plus another $30-40 for overnight shipping. Customers are entitled to see up to three years of test results upon request, and sellers must have their most recent test results posted at their pick-up point.
Producers are also only allowed to sell to the end consumer - they can't sell to someone who is picking up milk for someone else.
Raw milk can't be advertised or sold at farmer's markets, or at an establishment where food is sold (such as a grocery store, health food store, street market, etc.) A veterinarian must test all dairy animals for common diseases once per year. Milk must be sold within 7 days, and a label with a legal warning must be "permanently affixed" to the container the milk is in.
Expect to see these costs reflected in raw milk prices - monthly testing on every animal's milk, vet blood tests, packaging (label) costs, and the cost of lost milk produced that can't be sold, if it didn't sell within 7 days.
With all that being said, read on to find out how to buy raw milk from our central Iowa farm.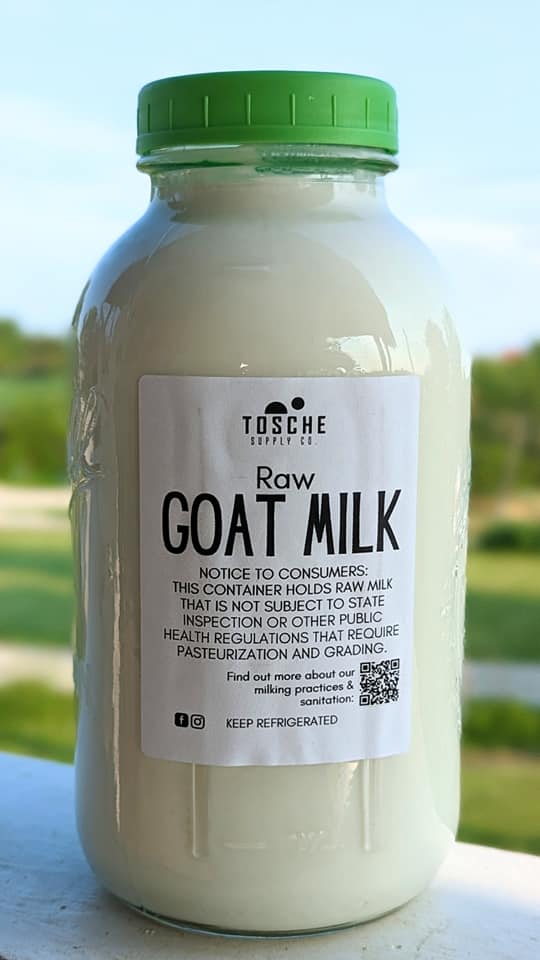 How to buy our raw milk
As of now, we are doing weekly deliveries to West Des Moines on Thursdays at 6 pm. We have an email list and notify members each week when jars are available for reservation. Click the blue button on this page to join the email list.
Members make their reservations online on a first-come, first-served basis, and there's a waitlist feature so that if someone cancels, anyone who is on the waitlist gets notified of the cancelation and has the opportunity to reserve the jars that became available.
We are only listing 1-2 weeks at a time to avoid having members book out every week "just to get a spot" and cancel down the road, since that's not fair to everyone. We do currently have a list that's larger than we'll be able to serve each week.
We are actively working on scaling up, but it's not exactly a quick process. (Milk comes from animals after having babies - it takes some time to get our animals bred and their babies born!) By next spring (2024), we expect to be able to support many more customers than we're currently able to serve, after some of our dry does have kidded.
How much does raw milk cost?
That's the question on everyone's minds. We will be selling by the half gallon jar, at $6 per half gallon.
Jar deposit
The jars and lids we use don't come cheap, and in order to keep prices in check, we use returnable mason jars. With your first purchase of milk, there will be a $10 deposit for each jar & lid that you buy. Bring back your clean (washed) jar and lid and that deposit will roll over into your next purchase, or if you decide not to buy more milk, your deposit is refunded. The deposit helps us cover the cost when customers don't return their jars, or if something happens and they get broken or damaged. You must return a clean jar and lid at the time of, or before, your next purchase in order to not be charged another jar deposit. If you forget to return your jar and lid, you'll be charged for another jar. The charge will be refunded when you return your jar.
Transport & storage
Temperature control is SO important, both for safety and quality. Bacteria doubles at ideal growing temperature every 20 minutes. Refrigeration slows it down tremendously, but does not stop it. Milk MUST be stored below 45 degrees at all times for proper food safety. We recommend bringing a cooler with ice packs to pick up and keep your milk cold on the way home. For best taste and longest shelf life, we recommend keeping your milk at 38 degrees or below, and not store it in the door of your refrigerator, which is usually much warmer than the rest of your fridge. If you ever notice milk going "off" sooner than it should, your first check should be on the temperature of the milk. Is it 38 degrees or below? If not, try lowering your refrigerator temperature or storing your milk in the back of the fridge where it's the coldest.
Labels
Our jars are labeled in accordance with Iowa law. We use dissolvable labels, so they can be washed off when you wash your jars before returning them. We've found they come off pretty well just being run through the dishwasher, and any bits that don't get removed will wipe off very easily after a dishwasher cycle. You shouldn't have to soak and scrape to get the labels off the jars.
Will you fill my jars for me?
No, we will not fill customers' jars/containers at pick-up. Since we do not have control over the sanitization of someone else's jars, we consider it too much of a liability risk to fill a jar that you bring to us. If someone should become sick after consuming milk that was placed in an unsanitized jar, there would be no way to determine whether the pathogens came from the milk or from the jar. We always sanitize all returned jars prior to filling them with fresh milk.
If you have any other questions, please don't hesitate to reach out to us and ask! You can read more about our milking/sanitization procedures on our raw milk page.