It's simply the quickest and easiest way to shop at our Farmers Market booth, and a great way to support our farm! With a Market Share you are purchasing a credit early in the year, then you can simply visit our booth at the Valley Junction Farmers Market in West Des Moines, or any Pop Up Market we are holding. Once you are there, you shop, we swipe your card, and you are on your way with your selection of farm fresh veggies!
SHARE OPTIONS
We have two options for Market Shares for the 2022 season.
Each share comes with a little additional bonus credit - essentially a 10% discount on our Farmers Market produce! The additional credit will be automatically applied to your card when you purchase.
The "Big Bite" - a $100 purchase, with a BONUS CREDIT of $10, for a total of $110 credit toward your market purchases.
The "Taster" - a $50 purchase, with a BONUS CREDIT of $5, for a total of $55 credit toward your market purchases.

---
READ ON FOR MORE INFORMATION & FAQs ABOUT MARKET SHARES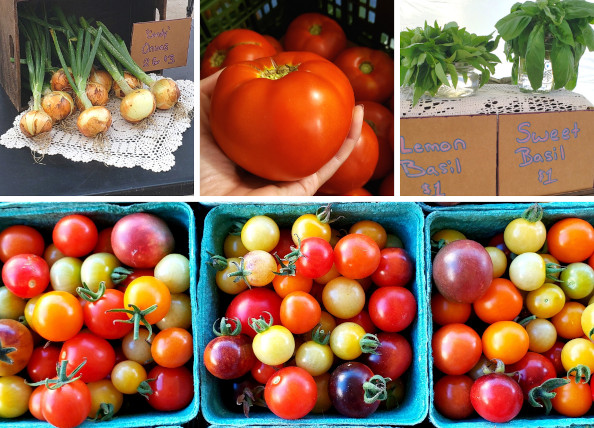 HOW DOES IT WORK?
You can use your Market Share credit to purchase any veggies, herbs, seedlings, or cut flowers we have for sale at our market booth or Pop Up Market. You'll be able to easily check your balance from a QR code on the back of the card with your smart phone. Once you spend it down, you can purchase another credit right then and there, or anytime here on our website! So easy!
WHY A MARKET SHARE?
Being a CSA member is not for everyone – big summer trips or other plans sometime throw a wrench in this great plan. A Market Share is a great way to buy your produce up front to get more value for your dollar! Also, it is a great way to support your farmers by paying up front for your vegetables, helping us buy the seeds, equipment, and other things we need to grow the highest quality, most delicious produce for you.
SEASON LENGTH
Market Shares will be redeemable during the season at our Valley Junction Farmers Market booth or any Pop Up Market. We ask that you use your balance by the end of the season to help make account management simpler for us! The Valley Junction Farmers Market runs every Thursday, beginning of May through the end of September.
GIVE THE GIFT OF A MARKET SHARE!
Market Shares make great gifts! If you are purchasing one as a gift, please indicate that at the time of purchase, and enter their email address so that we can make sure they get our weekly Farmers Market emails.